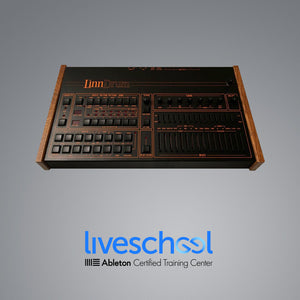 This Drum Sample Pack and Ableton Live set:
It's one part vintage drum machine

One part beautiful mixing desk, compressor and EQ

One part true analog distortion
We think you'll love making beats with it. 
We took a classic LinnDrum and recorded it through a beautiful Custom Series 75 Powered By Neve mixing console. We used the mixing desk's on-board compressor and EQ, adjusting the settings for every sound. We also ran each sound separately into another channel on the desk, overdriving the mic input on that channel to point of analog distortion, creating crunchy versions of each sound. 
Audio examples:
Push examples:
About the Drum Racks
The source sounds are straight, classic and pure. The overdriven versions go from subtle to scorched. We also added a few wackily-tweaked hits, particularly the Toms, just for good measure.
We then used these 144 samples as the basis for creating 9 Drum Rack presets. Two are focused on the unadorned clean and distorted samples, the other 7 presets are loaded with effect devices. 
---------

Contents:
144 samples
9 Drum Rack presets
32 Instrument Racks
---------
 ---------
System Requirements:
The samples can be used in any DAW or any version of Ableton Live.
To use the project containing the Drum Rack and Effects Rack, you'll need the following: 
Ableton Live 10 or above, and the usual Ableton system requirements:
OS X 10.11.6 or later.

Intel® Core™2 Duo Processor (Intel® Core™ i5 processor or faster recommended)

4 GB RAM (8 GB or more recommended)
---------
Copyright, Terms and Conditions:
You can use these loops in your own music or performances, royalty free. Other rights are reserved by Liveschool, including sole rights to sales and distribution of the samples and template Ableton Live set.