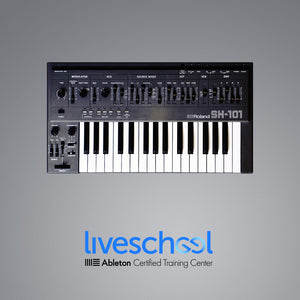 Together with our friends at Motorik Records, we've created a multi-sampled synth pack of the classic bleep and bass machine, the Roland SH-101. The samples were meticulously recorded in the Motorik Studios in Sydney by Francis Xavier and Yama Indra. 
The Pack includes 12 ready-to-play Instrument Racks, powered by note-for-note samples from the Roland SH-101 – this is true analog synth power ready to use in Ableton Live. 
About the Roland SH-101
Although it may look comical when strapped on as a keytar, the sounds that come out of the Roland SH-101 are no laughing matter – the SH-101 is one of the best single oscillator mono-synths ever produced.
It's bubbly effects, punchy bass and acidic leads have been used across every electronic genre – being a particularly essential ingredient in the sonic evolution of house and techno. The single Voltage Controlled Oscillator (VCO) can produce square, saw and pulse waveforms (with pulse width modulation capabilities also) as well as having a sub-bass oscillator (square wave only) to layer in some bottom end.
The SH-101 sampled here was Francis Xavier's first synthesizer –  originally bought for a measly $150 when he was barely 12 years old.  Read more about the SH-101's signal flow, sound-design capabilities and also some personal anecdotes here in Francis Xavier's (Motorik) full length review at Stoney Roads (our partners in crime on this one).
Audio Examples
About the Instrument Racks
In the download is a Live Set including 12 Instrument Racks - each set up to give you instantly satisfying and powerful results. 
7 of the Instrument Racks are presets designed on the SH-101 by Francis Xavier (Motorik Records) and Yama Indra (Gloves)
4 Instrument Racks with the raw waveforms from the MS-20 - allowing you to sculpt and create presets of your own
Each Instrument Rack has Macros for easy control of the main synth settings, and hand-picked effects chains for each sound
Contents:
12 Instrument Racks
539 Samples
System Requirements:
The samples can be used in any DAW or any version of Ableton Live.
To use the project containing the Instrument Racks, you'll need the following: 
Ableton Live 10 or above, and the usual Ableton system requirements:
OS X 10.11.6 or later.

Intel® Core™2 Duo Processor (Intel® Core™ i5 processor or faster recommended)

4 GB RAM (8 GB or more recommended)
Copyright, Terms and Conditions:
You can use these loops in your own music or performances, royalty free. Other rights are reserved by Liveschool, including sole rights to sales and distribution of the samples and template Ableton Live set.